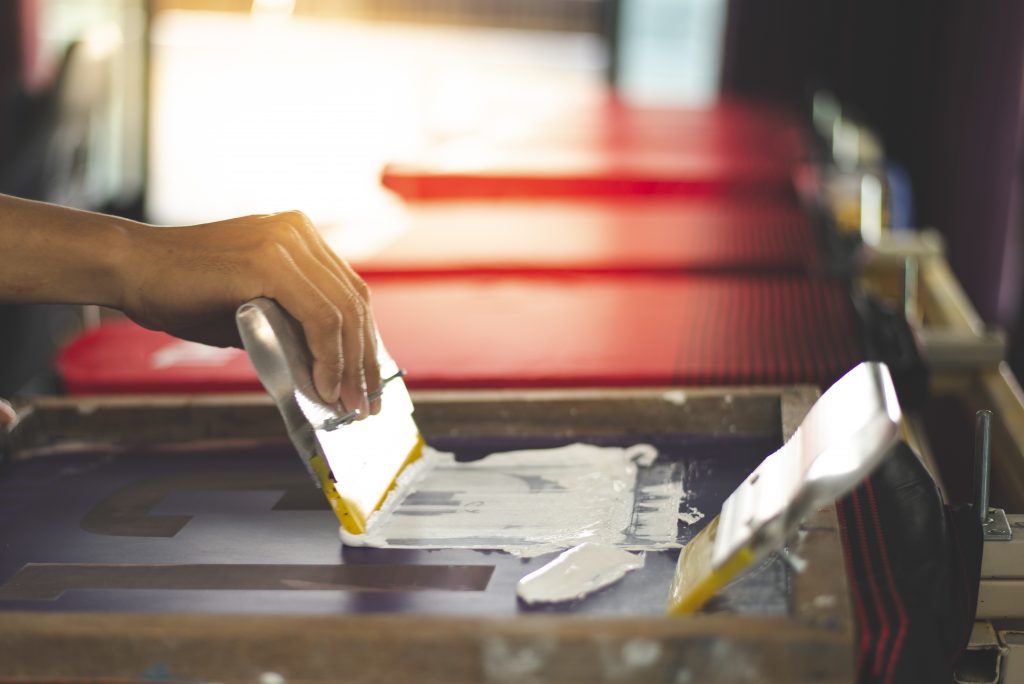 Screen printing is a popular, cost-effective choice for custom t-shirts. Shirt Werks has helped companies, youth groups, churches, athletic organizations, and many other groups look great and stay comfortable.
We can screen print many types of garments and products constructed from as many fabrics. Here's a look at the different materials we offer for screen printing. If you'd like to take a look and touch materials before buying, we'd love to have you over to the shop to browse our samples.
Cotton and Cotton Blends
Cotton is by far the most popular t-shirt material. Basic cotton tees are the most common bulk-ordered shirt due to their durability and affordability. The sturdy fabric is very easy to screen print. If you're looking for a simple, classic t-shirt, basic cotton is a great option. Or, you can upgrade to ring spun cotton for a softer, more luxurious feel.
Cotton blends are becoming trendier as a screen-printing option. Cotton-blended garments include synthetic fibers that create stretch and wick away moisture. Cotton blends are lighter weight than basic or ring spun cotton, too, which make them great options for summer tees or sports garments.
Ecofriendly Fabrics
Ecofriendly fabrics can be made of natural fibers, such as bamboo. But they can also include recycled rayon and polyester. Ecofriendly fabrics feel a bit different from traditional cotton and require a slightly different setup on our end, but they are great options for environmentally conscious organizations or individuals who wish to leave a smaller footprint.
Polyester Blends
Polyester and synthetic fiber blends are increasingly popular options for screen sprinting. Since they include plastic fibers, these materials do not absorb printing ink as natural fabrics do. Shirt Werks uses a special ink that sits on top of the fabric to keep your colors and designs vibrant and sharp. Since they are light and can wick moisture, polyester and synthetic fiber blends are a good option for sports teams.
Wondering which material to choose for your next t-shirt, bag, or other screen printing project? Shirt Werks is here to help. Give us a call or visit our shop to see samples of our materials and discuss your ideas. We look forward to hearing from you