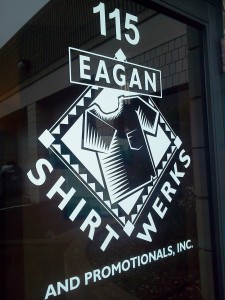 Shirt Werks first opened its doors in 1992. Like any other part-time start-up we were balancing work and raising our young family. We enjoyed helping others and wanted our customers to obtain high quality custom garments for their teams, business and organizations. We enjoyed helping with events from theatre groups to sports teams and non-profits We made it essential to offer them much more than a fun t-shirt. Personal touch was important.
Word spread about our quality t-shirts and within a few years we hired our first employee. Then in 1996 Shirt Werks became a full time business and later in 2001 a move was made into a commercial space. Over time we added more staff and automatic presses for t-shirt printing so we could expand to meet our increasing customer demand.
After repeat requests from customers over the years Shirt Werks added promotional products to our services to be a one-stop shop for our customers who wanted their logos, team names or messages on more than just garments. Before long it was another embroidery machine, then more staff, then larger, faster equipment.
Today the business has grown from returning customers and referrals. Our team strives to make our customers feel valued, important and handle their projects efficiently. We do all our screen printing and embroidery work in-house for maximum oversight for each job in order to insure things are perfect for our customers. Personal touch is as important to us as it is to you.
Over 25 years later…we still love making your t-shirts!